We take care of everything while you sit back with satisfied customers.
Now you can offer your customers almost anything they want - inside the box. We solve everything from idea to shipping. We pack and distribute, keep stock and take care of support. With AD box, you and your customers can build a brand in a modern and inspiring way. And always with products made under ethical conditions. We solve that too.
Watch the film:
Our Responsibility
With AD box, we can take responsibility from idea and products to warehouse and distribution.

Sustainable CSR
Of course, everything is made under fair conditions. You can trust us.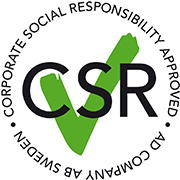 Contact
Contact your product media and profile advertising retailer for more information.